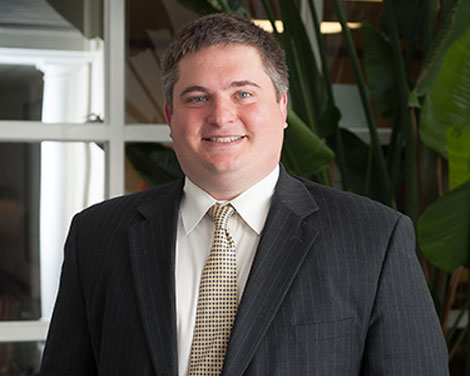 Jason represents clients primarily in personal injury defense, business, products liability, toxic tort (asbestos), and trucking litigation. He advises corporate clients on business related matters, such as regulatory issues, risk management and formation.
Jason has tried cases to verdict in both Superior and District courts. He has also represented clients in appellate cases in North Carolina. He is a member of the Firm's Rapid Response Team, available 24/7 for catastrophic accident investigation.
He is licensed to practice in all federal and state courts in North Carolina.
Jason was recognized as a North Carolina Super Lawyers Rising Star in 2015 and 2017.
In June 2017, Jason was elected to serve as the Chair of the North Carolina Bar Association's Young Lawyers Division (YLD). Prior to his election as Chair, Jason served as an officer, division director and committee chair. The YLD oversees a number of pro bono projects that serve the public and it provides professional resources for young lawyers.
Jason was selected to be a member of the NCBA Leadership Academy class of 2015-2016.
In June 2012, Jason was elected to a two year term to represent the State of North Carolina on the American Bar Association's Young Lawyers Council. His role was to serve as a liaison between the ABA and North Carolina affiliate chapters and to assist in the development of policies for the ABA YLD. He also served as the statewide Disaster Legal Services representative for North Carolina in which his duties were to coordinate the provision of legal services to survivors after a federal emergency.
Jason lives in Winston-Salem with his wife, Nina, and their three children.
Professional Associations
North Carolina Bar Association
American Bar Association
Forsyth County Bar Association
North Carolina Association of Defense Attorneys
Professional and Community Activities
NC Bar Association Young Lawyers Division, Chair (2017-2018); Chair-Elect (2016-2017); Secretary (2015-2016); Administrative Division Director (2014-2015); Division Director (2009-2012); Committee Chair (2008-09)
ABA Young Lawyers Division, District Representative (2012-2014), Council Member
Disaster Legal Services Representative for North Carolina (2012-2014)
High Point University Alumni Association Board of Directors, President (2016-2018); Vice President (2013-2016); Alumni Awards Committee Chair (2010-2013)
Adjunct Professor of Political Science at High Point University
First Presbyterian Church of Winston-Salem
Ward v. Buckeye Homeowner's Ass'n, No. COA11-3, 2011 N.C. App. LEXIS 1312 (N.C. Ct. App. June 7, 2011)
Smith v. Herbin, No. COA15-1074, 2016 N.C. App. LEXIS 497, 785 S.E.2d 743, (N.C. Ct. App. May 3, 2016)
Mills v. Majette, No. COA16-1145, 2017 N.C. App. LEXIS 368 (N.C. Ct. App. May 16, 2017)
North Carolina Association of Marital and Family Therapists, South Central Chapter, You've Been Served! What to do when you receive a subpoena; Sept. 21, 2017.
North Carolina Bar Association Continuing Legal Education, NCBA 2017 Annual Review, Oct. 19, 2017 (moderator).
NCBA Leadership Academy (2015-2016)
Contact
Direct Line (336) 464-9779 Extension 105
Legal Assistant:
Nicole Simoes
Email Nicole
Direct Line (336) 464-9776, Extension 100
Bar Admissions
North Carolina, 2008
United States District Court for the Middle District of North Carolina, 2008
United States District Court for the Western District of North Carolina, 2009
United States District Court for the Eastern District of North Carolina, 2014
Education
High Point University, Bachelor of Arts with University Honors, magna cum laude, 2005
Wake Forest University School of Law, Juris Doctor, 2008